Heleen from Nijmegen, The Netherlands
The school recommends that you may only take the hairdressing education if you do not have family members with asthma or eczema
25 years ago, Heleen in Holland chose to become a hairdresser. The school recommended that you only take the hairdressing education if you do not have family members with asthma or eczema. However, none of the students dropped out because they all greatly wanted to be a hairdresser.
Heleen says that it is popularly called hairdressing eczema when the hairdressers get a rash due to their work. The problem is so prevalent that Holland has a hospital section for hairdressers. Here, Heleen's friend was diagnosed with eczema due to both of her hands swelled up.
A few years ago, Heleen got an allergy to a Kevin Murphy hair color. The one time she stained, it itched so much on the scalp that Heleen came to scratch to the soft. Her eyes began to itch even though there was no hair color in her eyes. Heleen believes the hairdressing industry needs to look to the future in terms of health.
After her allergy outbreak, Heleen got to a skin therapist, who told her about Green Washing and referred her to Bruuns from Sweden and ZENZ from Denmark. From there, she became acquainted with the Green Salon and had to take a Green Salon course, to learn more about hairdressing products. For Heleen, it is easier to be a Green Salon if she sticks to one or more brands where all the products are approved for use in a certified Green Salon. That way, she does not have to worry about a shampoo being approved and a conditioner that is not. Today, Heleen is still in contact with Maria Hellström from Bruuns, and is really happy with the network that Green Salon is as well.
Like so many of her colleagues, Heleen has problems with shoulders, neck and back. She takes care of herself by practicing yoga. She believes that as a hairdresser, it is important to play sports because the job involves a lot of static loads.
Heleen is really happy to be a certified Green Salon because she can contact Green Salon every time, she has questions about chemistry and it gives her peace of mind.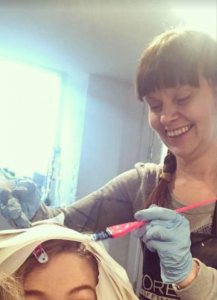 Sharon from Copenhagen, Denmark
I love my job and have a passion for my profession, but I also have to take care of myself.
Sharon is a fighter! Throughout her work as a hairdresser, she has had eczema (dermatitis) on her hands, pneumonia and is suffering from osteoarthritis. It is important for Sharon to work safely, take care of herself and still do a good job. Sharon does not have eczema when she wears gloves, and after she started working in a Green Salon, she no longer suffers with lung infections.
At 16 years old, Sharon started training at a hairdressing college in England in the 1980s. She was taught very little about allergies, as there was not a big focus on allergies in the hairdressing profession at the time. Sharon didn't have any allergies at this time, so she didn't think too much about it. She used gloves when colouring hair, but only wore gloves sometimes when she was doing a permanent wave and never wore gloves when she was washing hair.
Sharon developed eczema at the age of 25. She experienced swelling, redness, itching and pain in her hands. The doctor prescribed creams to apply to her skin. After that, Sharon wore gloves all the time when working and because of that she no longer suffers with eczema on her hands. After this, Sharon became more aware of her health.
Sharon experienced lung infections many times over several years and had pneumonia twice. When Sharon got pneumonia, she became very ill and had to report sick for up to a month. After Sharon started in Green Salon nearly 3 years ago, she no longer has problems with lung infections.
Sharon has had osteoarthritis for the last 10 years, because of her work as a hairdresser. She still works hard, but does a lot of daily exercises. She practices 30 minutes of Pilates every morning and after every workday. She has learned that it is important for her to remember to take a lunch break and to switch between standing and sitting when working. She also visits a physiotherapist once a week. Sharon has been recommended by her physiotherapist to have a vegetarian diet, as it is anti-inflammatory. Evidently, this has lessened her pain.
Sharon heard about Green Salon from a Green Salon hairdresser. She participated in a Green Salon
Course and decided this was the way forward for her. After Sharon moved to working in a Green Salon, she has gained new customers, who are also conscious about looking after their own health. It means a lot to Sharon that she can work with products that are not allergenic, carcinogenic and endocrine disrupting.
Sharon is constantly trying to find a balance – she says, it is possible to work hard and give a 100% to your clients. But it is also important to take breaks, exercise and eat healthily.
Sharon hopes that today's hairdressing schools are more aware of allergies and health issues in the hairdressing industry and will educate the students about it. As Sharon says, it's a pity to stop in a profession you love.
Sanne. Vejle, Denmark
I love to say that I am hairdresser in a Green Salon!
Sanne Væver is a certified Green Salon hairdresser located in Vejle. She has a severe perfume allergy due to many years of being exposed to harmful chemicals in hair products. "I definitely think that if I had the knowledge and that if it was part of my education, then my illness wouldn't have gotten as severe as it is now", she says.
Sanne knew at the age of three that she wanted to become a hairdresser. During her hairdressing education, Sanne learned how to do pin curls and she realized that she had been doing them since she was four years old. Unfortunately, Sanne had to leave the hairdressing business as a qualified hairdresser for half a year because she suffered from perfume allergy, which damaged her mucous membrane. It was such a pity because being a hairdresser is her biggest passion. "There isn't much of a big difference between my hobby and my job", she states.
Sanne began dyeing hair at the age of thirteen. She brought the colors from a hairdresser. She used gloves throughout the process, and there were no problems in the beginning. However, things started to change in her mid-thirties. It began with dry and cracked hands followed by asthma and difficulty in breathing.
After a prolonged diagnosis, Sanne now needs to take medicine for her nuisances every day for the rest of her life and she has to live with the side effects from her medicine.
Through an acquaintance, Sanne got in contact with Green Salon who helped her set up a more safe and eco-friendly salon. She replaced her products so she could become a certified Green Salon. Due to her allergy, Sanne opted for her salon to be free of perfume. Sanne is also allergic to permanent liquid that contains perfume. However, through Green Salon's network, she found a company in Sweden that made a test product of permanent liquid, which does not contain  perfume. This product was designed especially for Sanne. The permanent liquid works perfectly and the customers do not think that it smells – even without
any use of perfume!
"What I emphasize the most is that there must not be any cancer-causing, allergy-causing, and hormone-disrupting substances in a Green Salon", Sanne explains. She knows that she can vouch for her products without fearing for her customers getting allergies because of them. Her customers are very interested in Green Salon because they, too, are environmentally conscious and they care about what they apply to their bodies.
"I wish Green Salon to be a part of the hairdressing education", Sanne says. Through Green Salon's introductory courses, Sanne learned about allergies and substances, and what they do to our bodies and the environment. She feels that she is prepared for a healthier lifestyle as a hairdresser.